Between April 24 and 26 2023, the May 1st Institute organised a series of events attended by prominent representatives of European social democracy. The climax was represented by the international conference Summit on May 1st entitled Last chance to change? Future of the EU and the role of Social Democracy, at which Martin Schulz, former president of the European Parliament and president of the German political foundation Friedrich-Ebert-Stiftung, also spoke.
In the introduction, he highlighted the importance of the cooperation of political structures with civil society and the necessity of a deeper understanding for the democratic functioning of each individual:
"Democratic people need to understand what is happening, they need to understand structural networks and they need the ability to understand and to strive for a democratic society."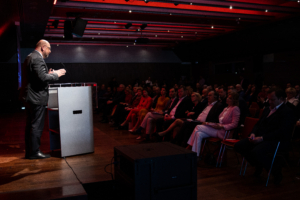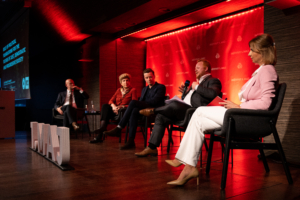 The international conference Vrh 1. May was the opening event in the framework of the establishment of the 1. May Institute. It was intended to discuss the key challenges of the European Union, social democratic orientations and the role of political foundations in supporting European integration and shaping public policies.
Among others, Maria Joao Rodrigues, president of the Foundation for European Progressive Studies (FEPS) and former vice-president of S&D in the European Parliament, Tanja Fajon, Minister of Foreign and European Affairs, Mahas, took part in the international conference, which took place in Cankarjev dom in Ljubljana. Joubelious, director of FES for Europe and North America, Klaus Tovar, long-term director of the SPD political academy, Jonas Andreson, program director of the Olaf Palme Center, Henna Rai, coordinator of international programs of the Labor Party in Great Britain, dr. Sonja Schirmbeck, director of FES, responsible for Slovenia and Croatia, Tijana Defar, project coordinator at FES, Gerhard Marchl, program coordinator of the Karl-Renner Institute, Matjaž Nemec, MEP, Knut Fleckenstein, former MEP and Mojca Kleva, member of the FEPS board .
At the conference, the guests participated in a panel on Europe's key challenges, spoke about the future of Europe and the vision of a social democratic society, and addressed the role of political foundations for the future of a just, democratic and progressive society at a round table.
On the sidelines of the international conference, the guests were welcomed by the parliamentary group of the Social Democrats, they visited the Ministry of Foreign and European Affairs, and Martin Schulz also met with the President of the National Assembly, mag. Urško Klakočar Zupančič.